SoundScape Entertainment - Stretch Pay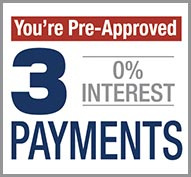 With SoundScape Entertainment's (SSE) 0% Interest Payment Plan (Stretch Pay), you use your existing credit or debit card, so there's no need to apply for a new account you might not want or need. This is an installment billing plan, where equal payments are made on your card, rather than the whole amount being charged up front - this way you are also not subject to high-interest penalty rates if you are late on one payment.

Payments are made every 45 days, automatically deducted after the contract has been signed. The first payment will include tax if applicable, along with a modest processing fee. See the details on the plan below.